Orchard Tour and hors d'oeuvres
October 8, 2017 @ 2:00 pm

-

5:00 pm

Free
Somewhere on a steep Appalachian Hillside carved by the glaciers, surrounded by forests and creeks, bathed in mists, stands a little cider orchard. It is here that we grow apples and then roll them into the valley below to made our critically acclaimed cider.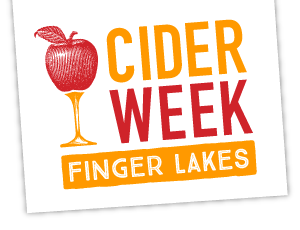 Terroir is a is a French word used to describe the way in which a wine reflects a sense of place. We want to show you the elements that make up the terroir at Eve's Cidery. Some of these elements include where we grow our apples, how we grow our apples and which varieties we grow.
Get your blood flowing and join cider growers Autumn and Ezra and their special guest, pomologist Mike Biltonen for a tour of their Albee Hill orchards.
Part science, part magic, this tour will involve rigorous walking up and down rugged terrain, tasting a myriad of cider apples and other interesting surprises. Come prepared with questions about organic orcharding methods, traditional cider varieties, the meaning of life and a sense of adventure.
About special guest Mike Biltonen:
A consultant at Know Your Roots, Mike has a Bachelor's degree in Horticulture from Virginia Tech and a Master Degree in Pomology from Cornell University. He has grown fruit throughout the eastern United States for over 30 years and is available for sustainable orchard consults, speaking engagements, educational seminars, and workshops.
About special guest Kass Urban-Mead:
A graduate student in Cornell's Entomology Department, Kass Urban-Mead is interested particularly in the "bees in the trees." spring-blooming trees and shrubs in woodlots and the "messy" corners of our properties.
2:00pm sharp meet at the cidery in Beckhorn Hollow and introductions: learn about the unique geology and ecology of our farm which lies at the intersection of the Southern Finger Lakes and the Northern Appalachian Plateau
2:15pm hike up Albee Hill and and get an update from Kassie Urban Mead,  a graduate student in Cornell's Entomology Department, on her research. Over one hundred wild and native bee species visit apple blossoms (not just honey bees!). But what are these bees eating before and after our crops are blooming, and where do they live? After spending the spring climbing trees and catching bees, Kass is excited to share what she's learned about the pollinating bees that use our forests.
3:00pm Mike Biltonen on Growing Apples "Incorrectly "or, how to grow better apples for eating and cider. Modern apple growing has indoctrinated many to ignore the benefits that wildness, nature and biodiversity can provide to growing better apples. But the rising interest in growing apples for cider – and not as cosmetically perfect dessert apples – provides us with great opportunity to re-learn how to grow apples with nature in the driver's seat. In effect, we need to relearn how to grow apples incorrectly by unlearning how to grow them "correctly." This approach is better for people, the environment, the apples, and the cider – what's not to embrace?
3:45pm Magical sensory tour. Autumn Stoscheck on why dirt matters in in cider making, how our relationship with nature informs our sense of taste and how art, science and mystery merge in the quest to produce a cider that expresses a sense of place.
4:30pm Tour the cidery and taste our ciders along with delicious local snacks. Cider will be available for purchase!
This event is FREE, but you must RSVP and get a ticket. Space is limited.
This event involves hiking up and down steep terrain. Please be sure to dress appropriately and plan on 2 hours of moderate hiking.
Tickets are not available as this event has passed.